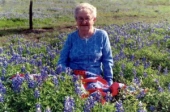 Obituary for ADELINE M. MAUSETH
ADELINE  M.  MAUSETH
Jan. 26, 1926 – Dec. 15, 2011
Stayton, Oregon

Adeline Madelyn Mauseth, 85, of Stayton, passed away peacefully with her family by her side.  She was born in New Prairie, Minnesota, the daughter of Carl and Anna Houim.  Adeline was married to Arthur Mauseth in 1947 and they moved from Minnesota to Salem in 1959.  She had worked as a salad maker for Norths Chuck Wagan and was a hostess and the Stayton A&W for 16 years.  Her daughter , Angeline Leffler, preceded her in death in 1985 and her husband, Arthur preceded her in death in 1989.  She enjoyed flower gardening, embroidery, traveling and spending time with her grandchildren.  She is survived by her son, Allen of Salem; daughters, Avonell Heskew of Stayton, and April (Joe) Garcia of Helotes, Texas; son in law, Randy Leffler of Bend; brothers, George and Curtis Houim both of Minnesota; 8 grandchildren; 11 great grandchildren; and 2 great- great grandchildren.
Memorial service will be Sat. Dec. 17th at 2:00 pm at the Calvary Lutheran Church in Stayton, Pastor Dell Schomburg , officiating.  Private interment at Willamette National Cemetery in Portland.
Memorial contributions may be made to the Calvary Lutheran Church in her memory.

Arrangements entrusted to Weddle Funeral Services Stayton, OR.