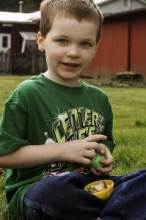 Obituary for ANTHONY ANT MICHAEL BERLIN
April 13, 2007 May 18, 2012

Anthony Ant Michael Barkley Berlin passed away May 18, 2012 while fishing with his Dad.  He was found on June 22, 2012.  Ant was born April 13, 2007 in Salem, OR to parents Brittany Endicott and Jacob Allen.  Anthony loved Lighting Dude McQueen.  In fact, he loved all the characters from the Cars movie, though Dude was his favorite.  Later he came to love playing Angry Birds.  Recently, he found his love for shooting zombies on any game system that his Dad or Uncles would play with him.  He was a sweet Angel and will be missed so much.  He made us all smile.  Ant made us a stronger family.  We will be patiently waiting until we see him again.  Anthony is survived by his mother, Brittany Endicott of Keizer, father Jacob Allen of Salem, step father Mikey Orren of Keizer, sisters; Aubrey, Callie and Lilly of Salem, brother, Angel of Salem, grandparents; Leanne Berlin of Canby, Carleen Graham of Gates, Tina Berlin of Keizer, Duke Endicott of San Diego, California, Roy Allen of Cynthiana, Kentucky, Great Grandma Irene GG Corey of Brooks and 12 aunts and uncles, many cousins and many loved ones.   Thanks to the Gates Fire Department, Crisis Chaplaincy Services and the Gates Community Church for their support during this time.  Thank you to all the agencies that used their time and resources in looking for our Precious Angel.  In lieu of flowers, please donate to the Gates Fire Department.

Arrangements entrusted to Weddle Funeral Services Stayton, OR.