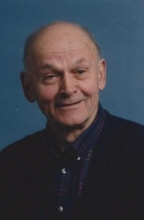 Obituary for AREY PODRABSKY
Arey Podrabsky a long-time resident of Mill City, Oregon, was an ageless wonder, full of life, love and laughter that passed away at the age of 99, peacefully in his home May 1, 2014. He was born to Joseph and Marie Podrabsky, June 6, 1914.
He met Irene in Scio, Oregon and married the love of his life in 1935. They began their life together in Longview, Washington, where their oldest daughter, Barbara and son Lahny were born. Arey was a beekeeper and worked in the lath mill.
In the year of 1940, Arey and his family relocated to his hometown Mill City, making it their permanent home, where Judy their youngest daughter was born.
His career was in the wood business and pursued working in sawmill and broom handle mills. Arey was a gifted, skilled carpenter, builder of eight houses in downtown Mill City. His finest accomplishment was building his own home and moving his family in the year 1950, where he lived his life out. Countless occasions, holidays, gatherings and reunions were held there.
Arey led an active social life, playing clarinet in the Mill City orchestra during World War II and Mill City Bohemian Brass Band. He served as President on the ZCBJ Czek Fraternal lodge. Arey was an active member of fourteen years in the Mill City Fire Dept.
Later in life he became an unique performer in various theatrical organizations and was long remembered in the live play, The Life and Death of Sneaky Fitch, performed in 1975.
Areys early interests were writing and composing music. He especially enjoyed dancing through life with his wife, performing with the Czech Jolly dancers exhibition group, playing for the local fireman dances and joined his wife as dancing instructors in the junior high schools. Their favorite dance was the polka music and danced it well.
He was a dedicated yell leader since 1937 in Mill City and led the annual reunion cheer every summer. Arey was declared the oldest yell leader in history.
Among the various activities he loved were fishing, crabbing, hunting, camping, planting his gardens and trips to the Casino.
Arey was an amazing man that was admired by all and touched many lives. He was kind-hearted, compassionate, generous, full of laughter, always singing, yodeling and a joy to be around. He was an positive example and inspiration who made a difference in so many lives. Arey will be greatly missed by all.
His true passion was living life to the fullest in a healthy lifestyle, after he became an herbalist in the year 1938, which had become the secret of his life the fountain of youth.
Arey was a legend in his time and an icon of the community. He leaves behind three children, nine grandchildren, fourteen great grandchildren and one great, great grandchild. A celebration of life private services will be held. 

Arrangements entrusted to Weddle Funeral Services Stayton, OR.