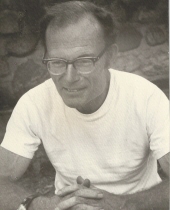 Obituary for ARTHUR GARDNER BISCOE
ARTHUR  GARDNER  BISCOE

December 11, 1919   †   March 31, 2013
Sublimity, Oregon

Arthur G. Biscoe, age 93, passed away on Sunday, March 31st at his home in Sublimity.  He was the son of Maurice and Agnes Biscoe.  Arthur was born in Cambridge, Massachusetts.  He served in the US Navy during WWII as a Motor Machinist's Mate.  He served on board many ships, including  the USS YMS 291 & 396.   He received his undergraduate degree from Colorado College and went on to receive his Master's degree in education at the Columbia University in New York.  He was married to Joyce McKinstry on June 16, 1955 in Poughkeepsie, NY and they lived in New York and Massachusetts before moving to Ojai, CA in 1965.  He was the Assistant Head Master/Teacher at Ojai Valley School before  retiring in 1985 .  They moved to Stayton in 1987.  Together they owned and operated  Hodge Podge antiques and were  members of the Oregon Antique Dealers.  Arthur  enjoyed restoring antique furniture as well as buying and selling antiques.  Joyce preceded him in death on Dec. 26, 2011.

Arthur is survived by his daughter, Sandi Schlabach  and son, Kolin McKinstry both of Stayton; grandchildren, Misty, Keith and Kevin; and great grandchildren, Taylor and Karter.

Private interment will be held in Ojai, CA.

Memorials may be made to the American Friends Service Committee.

Arrangements entrusted to Weddle Funeral Services Stayton, OR.