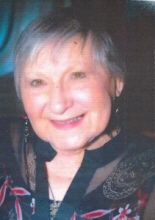 Obituary for Avis M. Nelson
Avis Marie Arnold Drushella Nelson

March 4, 1931 January 8, 2017

Mill City, Oregon

We know neither the day or the hour. Avis passed away suddenly on January 8, 2017 at the age of 85.

She was born March 4, 1931 to Clifford Walter Arnold Sr. and Sarah Standley Arnold near Lucas, Kansas, the eldest of 5 children; Betty (Grubb), Eugene, Walter, Mary (Clemons) and Larry.

Avis graduated from Albany High School in 1949 and married Duane Albert Drushella on November 19, 1950. They spent many years in Scio where they raised their 4 children. Avis began her career as a bank teller at Scio State Bank where she worked her way up to Operations Manager. She retired from the Scio branch of Wells Fargo Bank in 1989 after 30 years.

Avis married Donald Lee Nelson on January 16, 1987 in Reno, Nevada. They moved to South Beach, Oregon in 1996 where they built their dream home. Their home was always open to their friends and family, it was a place where many special memories were created.

Avis was a member of Crabtree Christian Church where she served as treasurer and organist.

She was a member of the Institute of Banking, the Cedar Chapter of Oregon Eastern Star, Daughters of the American Revolution, and was an avid genealogist. But her greatest success was the love of her children, they were the joy and light of her life.

Avis is survived by husband Donald Nelson; her two sisters and brother Larry; her children Nancy Iannarone, Cynthia Budlong (Dennis), Donna Lieberman (Rob), Leslie Whitson (Mark), Michael Drushella (Sheryl), Scott Nelson, Eric Drushella (Sheryl), Christie Wilburn (Forrest); 24 grandchildren and 20 great grandchildren.

Services will be held on January 16, 2017 at Weddle Funeral Home in Stayton, Oregon. The celebration of Aviss life will begin with a reception at 9:30 followed by a service at 10:30. Afterwards there will be a gravesite service at Providence Cemetery, near Scio, Oregon.

Arrangements entrusted to Weddle Funeral Services.