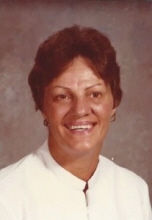 Obituary for BETTY J. SHEPARD
October 16, 1933 April 10, 2014

Betty Shepard was born October 16, 1933 in Rapid City, South Dakota to Alfred and Mable Dahlenburg.  Her family moved to the Lebanon-Sweet Home area when she was a young girl having attended Fairview School and Sweet Home High School until they moved to Long Beach, California.  She married Bobby Lee Shepard and together they raised four sons, Ted, David, Bobby and Randy.  Upon Bobbys retirement from the Navy they moved to Aumsville.  She worked at the Stayton Cannery and in food service in the Stayton schools.  She participated in several bowling leagues and enjoyed making casino runs to play the slots, playing Bunco and was an avid Garfield collector.  She was a member of the Aumsville Historical Society.  Betty was preceded  in death by Bobby in 1995.  She is survived by her two brothers; Wayne Dahlenberg of Lebanon and Lee Dahlenberg of Long Beach, California, sons; Ted of Aumsville, David of Lyons, Bobby of Salem and Randy of Sisters, four grandchildren and eight great grandchildren, also her cat, Spunky whom she loved dearly.   Graveside service is Monday, April 14, 2014 at 11:30 a.m. at Lone Oak Cemetery, Stayton.   Memorial Contributions: Oregon State Department of Veterans Affairs (ODVA)-Lebanon Veterans Home, 700 Summer St. NE, Salem, OR 97301 or Aumsville Historical Society, P.O. Box 496  Aumsville, OR 97325.

Arrangements entrusted to Weddle Funeral Services Stayton, Oregon.