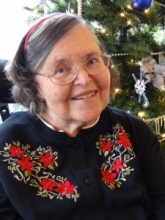 Obituary for BETTY J. TONN
BETTY JANET (TONN) COMSTOCK With sadness we announce the passing of Betty, beloved wife, mother, sister, grandmother great-grandmother and aunt.

Friday morning, April 1, 2016 Betty fell asleep peacefully, with her family surrounding her. Betty went into the Salem Hospital on Monday, March 28, 2016 with pneumonia, she was 82 years old.

Betty was born August 11, 1933 in Lodi, CA, to parents, Emanuel and Lorna Tonn. She attended Lodi Elementary School where she graduated from 8th grade as Valedictorian. She went on to attend Lodi Academy, graduating in 1952 as Valedictorian of her class of 71 students.

Betty continued her education at Pacific Union College (PUC) in 1952-53 taking pre-nursing before transferring to Loma Linda University. She enrolling in their nursing program from 1953-54 before she dropped out and traded in her degree goal of being an RN for her Mrs. Degree. Betty met Darryl Comstock while at PUC, she serving hot food in the cafeteria and he being a hungry student. Her sweet smile and big brown eyes soon won him over and he knew it was mutual when she gave him extra large helpings of potatoes.

They were married in Lodi, CA in 1954. They returned to PUC where girl and boy twins (Sharyl and Darryl II), were born in 1955 followed by a boy (Douglas) arriving two years later. After Darryl graduated, the family moved to various locations throughout California as he pursued his teaching career. Betty supplemented the family income as a child day care provider for 10 years in their home. In 1969 Betty obtained her Early Childhood Education degree from California State University-Hayward.

Betty taught at Golden Gate Academy, Oakland, CA, grades 1 and 2 from 1970-1972. The family moved to Salem, OR where she taught grades 1 to 4 at Livingston Adventist Academy, from 1972-1979 until her teaching career ended as a result of a ruptured cerebral hemorrhage. Although Betty was unable to return to teaching, her partial recovery enabled her to be not only a support to Darryl, but an inspiration to many. When Darryl's career took them to Kauai, HI, Betty set up the schools library and accessioned all the books. In 1998 they retired to a beautiful creekside property in Lyons, OR and attended the Stayton Seventh-day Adventist Church. They downsized to a duplex in Sublimity, OR and due to health issues, they moved into an assisted living facility in Stayton, OR where they lived until Darryls death in 2015. Betty moved to Tierra Rose Care Center in May 2015 where she enjoyed the loving care of its owners, staff and the company of their two cats.

Betty has had a life-long passion for her Lord and Savior, Jesus Christ. She was a faithful witness in every aspect of her life, a true Disciple. She never met anyone she didnt like or see as a potential candidate for the Kingdom of Heaven. After her brain aneurism and recovery, she became passionate about sending letters and cards of encouragement to anyone that was experiencing hardship. She would read about them in the newspaper, hear about them on TV or the radio and track down an address, so she could send them a card and a Voice of Prophecy Bible guide invitation to enroll in a correspondence course. She has received many letters from individuals thanking her for her love and concern, including several from Paul Harvey, Maria von Trapp, politicians, and countless others. Bettys zeal for her Lord could not be contained. She has given out thousands of Bible guides from Hawaii to Washington D.C., undaunted by the odd rejection.

Betty was a talented classical pianist, loved travel, had an extensive library on all things presidential, and enjoyed planting flowers in her yard. As an extravert, she particularly enjoyed the social interactions she had at school, church, or with family and any stranger didnt remain one for long. Betty kept a birthday calendar so that she could send cards to all those she met and loved. Her life was an example of Christ, she mourned with those who mourned, comforted those who needed comfort and stood as a witness for God in all things and all places.

Betty was diagnosed with Amyotrophic Lateral Sclerosis (ALS or Lou Gehrigs Disease) in April 2015. At last it was understood why she was no longer able to walk and had limited use of her arms. The disease continued to take away her independence until she lost the use of her hands and was finding at times it was challenging to speak. Losing the use of her arms didnt stop her from providing what she called, thought hugs, freely given in person, conveyed in letters or spoken over the phone.

When asked, How are you Betty, her ready reply was either, Better than I Deserve or Blessed. She said she had a choice to focus on the positives and be thankful or to wallow in the injustice of her situation. She took the high road and all that knew her, were affected by her beautiful smile. An avid reader all her life, losing the ability to hold a book was particularly painful for her. She was extremely grateful for the talking books she received from both the Library of Congress as well as Christian Record Services for the Blind, they brought her added companionship.

Betty enjoyed keeping up with current events and was an avid news watcher. She particularly enjoyed the presidential debates and was a fan of Ben Carson. She looked forward to November and participating in the election of the next president.

Bettys greatest love was for her Lord and Savior Jesus Christ. She had such a tremendous desire to share with others her understanding of the saving grace of her God. She spent countless hours carefully copying Bible verses and Ellen White quotes to send to those she felt needed encouragement. Her second great love was Darryl, husband of 60 years. She was his most enthusiastic fan and faithfully supported him in his career. She dearly loved her children, grandchildren and great-grandchildren, praying for each every day. She was anxiously looking forward to Christs second coming and being able to be reunited with all her loved ones.

Betty was preceded in death by husband, Darryl; parents, Emanuel and Lorna Tonn, brother, Donald and sister, Barbara Jean.

Betty will be greatly missed by her brother, Dr. Elverne (Ann) Tonn, sister-in-law, Deanna (Milton) Kindrick; children, Sharyl (Ken) Ashley, Darryl II (Elaine) Comstock, and Doug (Shirley) Comstock; Grandchildren, Calista Comstock (Caleb Foss) and Casey Luport; and precious great-grandchildren, Reef and Emery Foss; nephews, Jim Tonn and Joel (Rozy) Kindrick.

A quiet family internment will be held on Monday, April 4, 2016 at Lone Oak Cemetery in Stayton, OR.

There will be a Celebration of Life Service Saturday, April 16, 2015 at 3:00 pm at the East Salem Seventh-day Adventist Church, 5575 Fruitland Road NE, Salem, OR.

Bettys life-work was Christian education and her passion of helping others find Jesus. In lieu of flowers, Betty would be honored if donations were made to Voice of Prophecy, Box 999 Loveland, CO 80539-0999.

The family wishes to thank Claire King, MD for her friendship and the special care she gave Betty over many years as her primary care physician. The family is grateful for the thoughtful care of her ALS doctor, Kimberley Goslin, MD, PhD, during the last year. Gratitude is expressed for the loving care provided by the staff of Salem Hospital and the staff of Tierra Rose Care Center, Salem. The family wishes to thank Weddle Funeral Services, Stayton for their kind care.