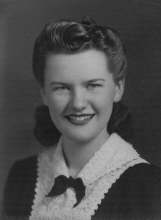 Obituary for BETTY JOSEPHINE PITTAM
December 15, 1922 September 5, 2013

Betty Josephine Pittam, the daughter of W.L. and Verna Eckles, was born in Nelson, Nebraska on December 15, 1922.  She passed away September 5, 2013 at Orchard Heights Memory Care facility in Salem, Oregon.  She was 90 years old.  Betty graduated high school in Wilbur, NE and soon after, at age 19, married her true love, Gerald Thomas Pittam of Nora, NE.  They lived in Clay Center NE and Jerry worked at the Ammo Dump during the early part of WWII.  They then migrated, by railroad, to Oregon, living in the tiny burg of Marion Forks. Betty built kitchen cabinets for their little shack while Jerry logged.  Later they moved to the Detroit/Idanha area and there their three children were born, Sherry Kay, Patricia Ann, and David Joe. Jerry stopped logging and went into the insurance business, Betty becoming his secretary. They moved operations to Mill City, but their friends from Idanha drove down many weekends to continue the card parties they were so fond of.  Bettys children and grandchildren remember the great food and many weekend parties that Betty loved to give. In 1965 Jerry built Betty the home of her dreams on the North Santiam River, and later said he didnt think shed ever leave the house or come to work again she loved it so much. Betty and Jerry were married 50 years when Jerry died in 1992.  After Jerrys death Betty continued to have big family Christmas parties and though her children had Christmas at their own homes also, thegrandchildren decided the real Christmas was at Grandmas. On Bettys 80th birthday, her children threw her a party and just about the whole town of Mill City showed up, plus relatives from all over Oregon, Washington and California. Several people remarked about the fact that Betty Pittam was a real lady. In her 80s Betty sold her home and moved to Monmouth, OR to be nearer to her children. Bettys oldest daughter, Sherry Kay, lived just a couple blocks away and took excellent care of her mother for many years.  All of Bettys children, grandchildren, and great grandchildren adored her.  She wasnt just a grandma, she was a grand lady all around. Betty is preceded in death by her husband, her parents, and her youngest brother.  She is survived by her three children and spouses, six grandchildren and spouses, and fourteen great grandchildren. Private family services.  Please in lieu of flowers, in memory of Betty Jo Pittam, donations can be given to Hospice Care of the Northwest, 2290 Commercial St. SE. Suite 108 Salem, OR  97302; or Christs Church, 412 Clay St. W, Monmouth; or The Christian Church, Mill City.

Arrangements entrusted to Weddle Funeral Services Stayton, OR.