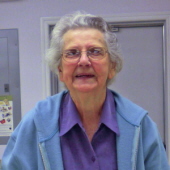 Obituary for BETTY LOU PRESTON
Betty Lou Preston
Scio, Oregon

Betty Lou Preston was born as Lena Tiemann in Osnabruck, Germany on December 22, 1918 (1919).  In 1929, she immigrated to the US through Ellis Island with her parents, Johann Heinrich Tiemann and Elizabeth Korsmeyer, and 2 brothers and 2 sisters.  The family settled in Nebraska where she met her first husband, Paul James Nelson, Sr. and she began the next phase of her life as Betty Lou Nelson. The couple moved to Southern California.

Betty and Paul had five children together, Paul James, Jr. (Jim), Betty, Carol, Bob and Jerry. After their divorce, Betty worked at Standard Connector.   Betty met the love of her life at a wedding reception and her life changed again when she married William Kenneth Preston in 1961.  Ken and Betty had a daughter together, Kathy in 1962.

Ken and Betty traveled cross country many times to visit family and friends on both coasts.  They lived in California, Michigan and Virginia before they settled in Scio, Oregon.  Ken and Betty were married 46 years at the time of his death in 2006.  They did everything together and loved to travel, bowl, play canasta, and dance.  They loved going to church no matter where they lived.  After Ken's death, Betty still enjoyed doing puzzles, spending time with her family and friends, and going to her little church in Scio.

Betty was proceeded in death by her parents and siblings, her husband Ken, her son Jim and her daughter Betty. She is survived by her daughter Carol (Art Langley), Bob (Brenda), Jerry (Loretta) and Kathy (Terry Jordan), and many grandchildren and their families.

Visitation will be Friday, November 21, 2014 from noon to 8:00 p.m.   Funeral Services will be held at Scio Christian Church on Saturday, November 22, 2014 at 2pm with a graveside service following at Miller Cemetery.  Contributions may be made to the Scio Christian Church.

Arrangements entrusted to Weddle Funeral Services Stayton, OR.