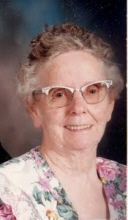 Obituary for BETTY LOU VOGT
BETTY LOU VOGT

April 8, 1924 May 2, 2014
Keizer, Oregon

Betty Lou (Combs) Vogt, of Keizer, OR was born April 8, 1924 in Springfield, Illinois to Charlie and Katie Combs. As an infant, her family moved to Neosho, Missouri and then moved again, when she was 12, to New Plymouth, Idaho. They moved next door to the Vogt family and became good friends with them. She married the youngest Vogt boy, Howard, in 1941. They lived in Payette, Idaho, first when Betty began her lifelong Career as a wife, and homemaker. After Howard began working for the Federal Government, they moved to Missoula, Montana, where their first daughter Betty June was born and Betty added mother to her title. They moved next to Ogden, Utah where their second daughter, Carol Lynn was born, and then to Salt Lake City, Utah, where their third daughter, Barbara Ann, was born. Then they returned to Ogden until 1963, and then moved to Falls City, OR, after Howard was granted disability from the Federal Government. The next move they made was to Salem, OR and then to Keizer, OR. The Vogt family invited Betty and her mother, and oldest sister to attended Gospel meetings. Her mother and sister declared that they wanted to walk the same path as the Vogt's, but, Betty felt she was too young, at that time, to make the same decision. A few years later, she made the same decision. Betty is survived by two daughters, Carol Lundin (husband Richard), Barbara Vogt, one son-in-law Russel Mendenhall; one granddaughter, Cheri Mendenhall and one grandson, Roger Mendenhall (wife Robin), three great granddaughters, Candice Nikerson (husband Mikey), Shelby Phillips (husband Nick), Brandy Lundin, one great grandson Derek Mendenhall (wife Victoria), two great great-granddaughters Payton Nail and Ellie Nickerson and one great great-grandson Tucker Phillips; Many nieces and nephews and their families. Betty was preceded, in death by her husband Howard; oldest daughter Betty June Mendenhall; youngest granddaughter Noelle Marie Lundin; her sisters Sylvia Davis, Frances McCance, Ruby Corn; her brothers John Combs, Manford "Mack" Combs, Dennis Combs, Arthur Combs, Ralph Combs.

 Memorial services will be held, Monday, May 12 at 2 PM, at Weddle Funeral Chapel; 1777 North Third Ave, Stayton, OR 97383

Arrangements entrusted to Weddle Funeral Services Stayton, Oregon.