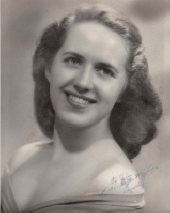 Obituary for BEVERLY MAY RITCHIE
Beverly M. Ritchie
(May 22, 1928   March 24, 2013)

Pull out any toddler photo of Mom and immediately you'll see a similarity to Shirley Temple. A toss of blond curly hair surrounding a beautiful face, tiny shoes ready to dance, and an energy force that could light up the room.

Mom was born with the gift of a beautiful voice an a passion for music.  After studying both accounting and music at Weber State University, she worked at a local bank where she fortunately fell in love with a tall, handsome, kind man who became our beloved father, James D. Ritchie. Dad, who looked like Cary Grant but had the dry wit and wisdom of the character Andy Griffith, was the "country side" to our "city girl" Mom.

Children soon followed this union, and together they raised four children, Renee Melton, Dennis Ritchie, Carol Crow, and Barbara Bassett.

In addition to her responsibilities raising four kids, somehow mom was also able to expand and develop her skills in the workforce. She was an assistant banker, managed a local jewelry store, and was also manager of a credit union.  In our youth, we were always amazed watching her fingers fly between the typewriter, adding machine, ledger poster, and telephone while signing checks and talking to people in line for services. She was quite the queen of multi-tasking and still found time to get us kids to the dentist, shop for clothing, attend our school functions, or find out why we sluffed a day of school.

Somehow during these busy years of child-rearing she was also president of the bowling league, an avid bridge player, and still found time to weave in her love of music.  She gave piano lessons, taught Dad how to dance, and held raucous parties at our cabin in the canyon.  She also took care of her elderly parents, loved organizing parties, loved to go out dancing with Dad, and found any reason to celebrate and have fun.

Mom and Dad enjoyed almost two decades living as snow birds in Arizona in the winter and Park City, Utah, in the summer to visit family and friends.  In 2002 Mom and Dad decided to move to Medford, Oregon, to be closer to family.  Unfortunately, in 2004 she was diagnosed with cancer and was given 3-6 months to live.  During that challenging year, Dad also suffered a tragic head injury and we rallied with his failing health issues until he passed in 2010.

But disproving any medical statistic and being the powerful force she was, Mom endured multiple surgeries, chemo, and radiation but always came through with a spring in her step and a smile on her face.  Be it while gambling in Vegas or rolling the dice during Bunco, she always had the force of luck with her. Her favorite time of the day was to relax before dinner with a shot of her favorite Jim Beam whiskey, which to the end she swore "killed all the bad bugs" and allowed her to live several more years.

She was an all-around imbiber in all the joys of life, and we'll miss her life-force, enthusiasm, "Lucille Ball" antics, and laughter.  In her late years after Dad's passing, her neighbor and special friend Winnie became part of our family and trusted sidekick as they both planned, cried, and laughed about going to "Oz" one day soon.  We'll miss the sound of her voice calling every day to touch base, but hope she's dancing and singing the birthday song again to everyone "upstairs".

In addition to her children, Bev was blessed with seven grandchildren and four great-grandchildren.  Love you Mom.

Arrangements entrusted to Weddle Funeral Services Stayton, OR.