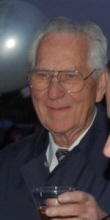 Obituary for BILLY BYERS JR.
February 11, 1929 October 31, 2012
Sublimity, Oregon

Billy Byers Jr. passed away on October 31, 2012 at the age of 83. He was born February 11, 1929 in Clarksville, Texas to Willie and Anice (Jones) Byers. Billy lived in Oregon since 1947. He was away from Oregon during his time in the US Air Force, returning in 1959. The family moved to the Sublimity/Stayton area from Salem in 1965. He worked at the Oregon Correctional Institution in Salem as a Baker, Math Instructor and a Vocational Instructor Manager. He retired in 1982. After retirement Billy enjoyed volunteering at Stayton Grade School. Billy and Joyce enjoyed going to the beach where they spent a great deal of time. They were members of St Boniface Parish and Immaculate Conception Parish. Joyce, his wife of 63 years, preceded him in death on September 28, 2010. He is survived by his daughters Theresa, Annette Annie and Angela, and granddaughter Devan, each of them being his favorite girl.