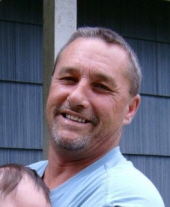 Obituary for BRUCE RAY SLOAN
Bruce Ray Sloan   2/19/1962 – 7/6/2012

Bruce Ray Sloan was born February 19, 1962 in Kalamath Falls,OR to Edna and Newton Sloan.  He spent his childhood in Stayton,OR with his mother and father and five siblings.  Bruce later married his wife Minta, of 24 years in Dallas,OR.  They raised their family, two boys and two girls in Mill City,OR.

Bruce and his family spent their time hunting, fishing, and camping throughout Oregon.  One of our favorite memories is waking up on Saturday morning to a big ol' breakfast, he always made sure to make enough for all the neighborhood kids too!  And on Sunday you could always count on Bruce to have a special pot of beans ready on the stove.

Bruce worked at Phillip Industries for 17 years.  He then later felt fortunate to have worked along the side of his two sons for River City Excavation driving truck, where they shared lots of good memories in the hot sun.  This last year he spent driving truck for A&B Septic in Albany,OR.

There was nothing Bruce loved more than hanging out with his fishing buddy Brayden.(oldest grandson- the fish slayer)  He showed him all his favorite fishing holes and how to reel the big ones in.  Bruce always talked about the days he could teach all his grandchildren the same tricks; Mae Mae, Jo Bug, Ledoux, Cuddle Bug Ryder, and his Paisley Girl.

Bruce is survived by: two brothers Nevada and Randy,  two sisters Valerie and Angela.  His wife Minta.  Four Children, Tyson wife Lindsay and children Eva and Jaxen.  Joe wife Drenda and children Sophia and Ryder.  Kalani, Eric Gutierrez and son Brayden.  Kalia, Ross Farthing and daughterPaisley.

The family will be spreading  Bruce's ashes in his favorite fishing hole on the Santiam River.  There will be a Celebration of Life to follow at John Neal Park August 4th at 2pm.  We will miss you freebird.

Arrangements entrusted to Weddle Funeral Services Stayton, OR.