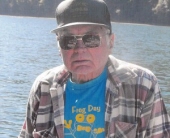 Obituary for BYFORD D. WONDERLING
July 19, 1938 August 21, 2014
Aumsville, Oregon Resident

Byford Darwin Wonderling, 76 of Aumsville passed away on August 21, 2014. Byford was born on July 19, 1938 in Julesburg, Colorado to Beauford and Mable Wonderling. He attended Pierce High School in Arbuckle, California. Byford married Beverley Walling in 1980, and together they celebrated more than 34 years of marriage on July 8th. Byford worked as a truck driver from 1978 to 1996, and retired due to health reasons. Prior to retiring, he received the 1996 driver of the year award. His hobbies and interests included fishing trips, gardening, playing Keno, and spending time with his grandchildren and family.

Byford is survived by his loving wife; Beverley Wonderling,Children; Darwin Woody (Michelle) Wonderling, Jesse Hill, James Hill, and Joey (Brandy) Hill, Brothers; Donley Wonderling of Arbuckle, California, Ralph (Judee) Wonderling of Beaverton, Oregon, and Radford Wonderling of Independence, Oregon, Sister; Dee (Glen) English of Williams, California, Grandchildren; Brandon, Jordan, Amanda, Christopher, Lindsay, Kaeli, McKenna, Leah, and Destiny. Byford was preceded in death by his parents. He will be remembered as a very caring and loving man. We all loved him, he will be very deeply missed . He will always be in our hearts until were all together again.

In lieu of flowers, contributions can be made to the American Cancer Society. Visitation will be held on August 26, 2014 from 10AM to noon at Weddle Funeral Chapel.

Arrangements entrusted to Weddle Funeral Services Stayton, Oregon.