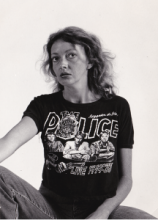 Obituary for Barbara Jean Rowland
Barbara Jean Rowland

August 31, 1948 February 18, 2015

Salem, Oregon

Barbara Jeanne Rowland died peacefully on February 18, 2015 surrounded by her family and close friends. Barbara was born in Colfax, Washington on August 31, 1948, to parents Jesse N Rowland and Mildred M. (Smith) Rowland, who predeceased her. Barbara leaves behind her son, Craig M. Rowland; siblings Patricia E. Mudge, Robert L. Rowland, and Virginia Zuelow; her dearest friend and soul sister, Nancy; many cousins, nieces, nephews and friends.

Barbara received her Masters Degree in Spanish at Portland State. The loves of her life were her son, her art and photography, and Mexico. In addition to Washington, Oregon and California, Barbara worked and traveled in Mexico as well as Alaska. Barbaras art and photography are influenced by those travels. Barbara was active in the independent art scene in San Diego in the 1980s when artists were opening store front galleries.

Barbara is remembered for her gentle spirit and her courage to take the road less traveled. She had a kind word for everyone and had a special ability to personally connect with everyone she met. Private services were held and officiated by the Reverend Rick Davis of the Unitarian Universalist Church. Donations in her memory may be made to Habitat for Humanity.

Arrangements entrusted to Weddle Funeral Services Stayton, Oregon.