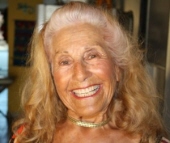 Obituary for Beatrice Marcela DeVos
Beatrice Marcela DeVos

January 17, 1932 February 6, 2017

Aumsville, Oregon

Beatrice Marcella De Vos, born January 17, 1932, departed this world to join her Heavenly Father on February 6, 2017.  Bea was the beloved wife of 66 years of her husband, Alphons Joseph De Vos.  She was the devoted mother to Gerianne Parenti, Judith Burditt, Alphons and Josh DeVos,  grandmother to Nia Fisher, Molly, and Benjamin DeVos, and great grandmother to Aspen and Ander Fisher.  She was preceded in death by daughters Cathleen and Serena DeVos, and grandson Christopher Burditt.

Bea was born in El Carmen, New Mexico to her farmer father, and school marm mother.  She was one of 8 children, and surviving her are siblings Henry Martinez and  Lucy Gutierrez of New Mexico, Lilian Meyers and Alice Duran of California.She was preceded in death by her brother Eloy and sisters Josephine and Elenor.   She frequently told stories of the love in her home as a child, the adventures she and her siblings had, and the games they played, despite growing up in the Great Depression. While a child, her family moved to Salinas California where she resided until 1976 when she relocated to her home in Aumsville, Oregon when her husband was transferred to manage an insurance agency in Oregon and Idaho.

She met the love of her life, Al, at 16, and they married at 18.  He promised her he would show her the world, and he did!  Some of Bea's favorite memories were their travels together on cruises, trips to Europ , meetings with three Popes, and road trips through Canada, all over the United States and Mexico in their motor home and winters they spent with friends in Paamul, Mexico for the last several years.  Everywhere she traveled she made friends, touched people's lives, and gathered rocks for her garden!  They had 66 joyous years together. Together they formed an unstoppable team.  With an unwavering faith, a willingness to fight and a love for their family, together they overcame the countless challenges and obstacles life presented by always meeting them head on.

Bea was a graduate of Salinas High School in California.  She also took many courses through Hartnell College and the University of California.  She obtained her insurance license and ran her own insurance agency in Salinas for many years.  Later she ran the office for her husband Al  DeVos  Knights of Columbus Insurance Agency until she retired in 1995.

Bea and Al were very active members of Saint Mary's parish in Shaw.  She taught First Communion classes, decorated the altar, organized St. Patricks Day Dinners, Spaghetti Feeds, chicken BBQs and helpedAl organize and form the local Knights of Columbus  Council.  She also helped with major fundraisers such as the Sublimity Harvest Festival and Mt. Angel Oktoberfest booth.  She could always be seen in the window at midnight, calling out to those leaving the Beer Garden to come and get their Rueben sandwich!  She had repeat customers that came back asking for her year after year.

Bea loved people, and people loved her!  Some of the things she was passionate about were counseling young girls at Michael the Arch Angel, helping the Father Taaffe Foundation, and teaching English to the Mexican children in Paamul, Mexico.  She loved to help guide people and give them advice.  She always stood up for the underdog, and made everyone around her feel more beautiful, powerful, loved, and important.  Her smile was absolutely contagious, and lit up whatever room she entered.  She had a unique sense of style, and made a fashion statement from head to toe whenever she left the house.  Her other hobbies included her beautiful yard and garden, where you could find her from sunup to sundown all Spring, Summer, and Fall.

When Bea's family was looking through boxes of photos, her granddaughter found a note written in her handwriting.  It said, "My only wish is to be considered a good person, a good mother, and to only be judged by God."  She was, and words cannot express how much she will be missed by so many.

In Lieu of flowers the family is accepting offerings to Michael the Archangel, Salem Pregnancy Resource Center, 1725 Capitol Street, N, Salem, OR 97303 in order to assist unwed mothers.

Rosary to be held on Thursday, February 16, 2017 at 11am at St. Mary Catholic Church in Shaw. Mass to follow at 11:30am.

Arrangements entrusted to Weddle Funeral Services.