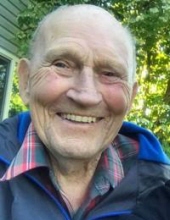 Obituary for Benton Burdett Burright
Benton "Bud" Burdett Burright died peacefully at his home in the early morning of March 20, 2019.

Bud was born on April 1, 1930, in Woodbury County, Iowa, and was the third child of 10 born to Ferol Potter Burright and Charlotte Faye Richardson. When he was three years old, his family moved to Corvallis, where he lived for the remainder of his life. Bud helped on the family farm and worked hard to help make ends meet. One of his first jobs was with his father in the construction of the Cottage Grove Dam when he was 14.

Besides logging for a few years, he went on to building houses and a motel near Enterprise, Oregon. Tom Neer, a man Bud considered as a second father, was implemental in teaching him how to build. He spent the rest of his career working mills, including shift foreman at Brand-S and later Leading Plywood.

Bud was in the National Guard for eight years as a machine gunner and rifleman, 3rd Battalion 162nd Infantry. His rifle skills got him recognized and assigned to a shooting team, which won many championships. His regiment was being called up for Korea when the war ended.

Bud built his own house in southwest Corvallis in 1953, where he raised his four boys and lived until his death.Bud met his wife, Grace Hilda Fey (the love of his life), at the Evangelical Church in Corvallis. They married July 28, 1950. Grace preceded him in death in 2005.

He is survived by his four boys, Kent and wife, Pam, Ben and wife, Debra, Tom and wife, Debbi, and Jack and wife, Coleen; eight grandchildren, Kevin Burright, Kristy Burright, Cory Burright, Cody Burright, Christopher Burright, Livia Philips, Sara Derrickson, Karissa Burright; and ten great-grandchildren. He is also survived by siblings, Ron Burright, Larry Burright, Danny Burright, Mike Burright, and Barb Stevenson.

He was preceded in death by siblings, Kenneth Burright, Elizabeth "Betty" Green, Carole Parnell, and Patricia Burright (infant).

Bud was loved and known by many for his kind heart and generosity. Whether it was teaching another about construction, fishing, hunting, or helping someone get a job in the mill, he was the kind of person to help others. Bud was well known and loved in the neighborhood as he took his dog daily for walks. He was indeed blessed to have such a tight knit community who looked out for each other.

One of Bud's best friends said he was born 100 years too late due to his love for the outdoors. Hunting and fishing were his life. His motto was "you only shoot what you eat, and nothing goes to waste." He and his best friends started ocean fishing out of Newport and Depoe Bay in the 1950s in a P-14 boat. He continued going out of those ports through 2018 and fished until the year of his passing.

A celebration of life will be held at 2 p.m. on Friday, April 26, at the Potter's House Christian Fellowship of Corvallis, located at 6735 SW Country Club Drive. Please bring a dessert and a Bud story to share as we enjoy the many tales from his legacy, from chewing out the Coast Guard to sneaking a chicken leg from Izzy's for his dog. He made people laugh daily and lived life to the fullest.

Anyone who wishes to leave condolences may do so at www.Weddle-Funeral.com.


Previous Events
Celebration of Life
Potter's House Christian Fellowship
6735 SW Country Club Drive
Corvallis, OR 97333