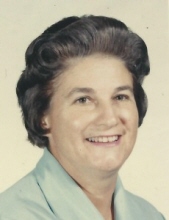 Obituary for Bessie Shope Bates
Bessie Shope Bates

November 27, 1920 February 6, 2016

Scio, Oregon

SCIO Bessie Bates, 95 of Scio, Oregon died Saturday, February 6. Our beloved mother was born in Council Grove, Kansas to Jerome and Laura (Pickering) Shope. Her entire adult life was lived in and around Scio. She married Chuck Bates on May 9, 1941. They enjoyed 61 years of marriage. Preceding her in death were husband, Chuck and brother, Clarence Shope. Bessie is survived by two sisters, Tilley Tillie and Mae Gomez; 4 daughters, Charlene Rodgers, Darlene Woodward, Dorothy Bates Hunt and Carol Woolley; son, Richard Bates, three grandchildren and three great grandchildren. 

While rearing her children, she stayed at home. Her hobbies included growing a great family, great cooking and great gardens. Once the children left home, she worked many years for the Scio School District as school cook and supported her husband in his active career involving Scio sports, politics, and firefighting. She was a member of Scio Christian Church. 

A memorial service is planned for this spring at a time to be announced.

Arrangements entrusted to Weddle Funeral Services.