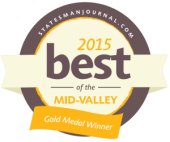 Obituary for Best Funeral Home of Mid
by Special to the Statesman Journal

Weddle Funeral Services is honored to have won Best Funeral Services two years in a row and has served the Stayton area since 1917. Even though the business changed hands in 2008, the new owners are folks rooted in Stayton, and Weddle's continues to be family owned and operated. The friendly staff are experienced and kind, helping maintain a warm, welcoming and comfortable environment. They do their best to honor all requests of any family traditions or practices. Because it is important to serve the entire family, they also provide toys and activities to keep children occupied. Weddle's offers affordable services and exceptional value with compassion and care.