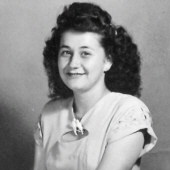 Obituary for Betty Jo Griffith
Betty Jo Griffith

December 10, 1931 April 16, 2017

Lyons, Oregon

Betty Jo Griffith (Mangrum), 85 years old of Sublimity, went home to be with her Lord on April 17th. She is survived by her husband of 69 years 3 months, Billy Ray, son Danny (Ginger), daughter Kathy (Jimmie) Cooper, 5 grandchildren, and 15 great grandchildren. 

Betty was born in 1931 in Fanshawe, Oklahoma to Joe and Christine Mangrum. She attended school in California and Oklahoma. She married the love of her life, Billy, January 15, 1948 in Van Buren, Arkansas. 

Betty worked many jobs during her life, including café, truck stop, canneries, field work and banking. She worked at U.S. Bank in Stayton, Salem, Scio, and Albany. She was an excellent seamstress and loved to quilt and crochet. She taught some of her great granddaughters to crochet. She made many afghans, of which she gave away. She could make patterns for anything in crochet. She also was a great cook, making many of the southern dishes she was raised on. She was also known for her sweet tea. She enjoyed singing the old time Gospel hymns and reading her Bible. She had a close personal relationship with her Lord and Savior. 

During their married life they lived in, California, New Mexico, Oklahoma, Idaho, as well as Oregon which became their home.

Services will be Friday, April 21st at 11:00 am, Scio Baptist Church. 

In lieu of flowers, contributions can be made to: 

Hospice Care of the Northwest

2290 Commercial St., SE Suite 108 Salem, OR 97302

                                                                                                                                                                    

Services entrusted to Weddle Funeral Services.