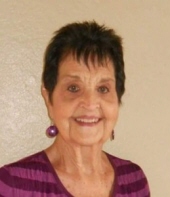 Obituary for Betty JoAnne Kinler
BETTY JOANNE KINLER
November 12, 1930 – November 7, 2015
Salem, Oregon

Betty Joanne Keithley was born November 12, 1930 to Leland and Della Keithley in North Santiam, Oregon. She went to be with her beloved Lord on November 7, 2015. Betty Jo (BJ) married Julian Kinler on July 26, 1953. Together they had 4 children, Robin (Bud) Austin, Roberta Olfert, Julie (Jeff) Cruise and Alan Kinler. Family was a great joy to BJ including 11 grandchildren and 7 great grandchildren. Teaching was also a passion of hers and that continued with volunteering in the Salem, Keizer schools till the day she passed away. BJ was preceded in death by infant son, Robert; husband, Julian; parents, and her sister, Mary Chapman. Services will be held at 4:00 pm on Friday, November 13th   at the Salem 1st Church of the Nazarene, 1550 Market Street, Salem. Memorial contributions may be made to Celebrate Recovery c/o 1st Church of the Nazarene.

Arrangements entrusted to Weddle Funeral Services.