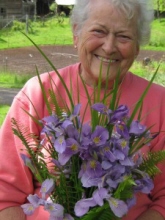 Obituary for Bobbie Jean Budlong
Bobbie Jean Budlong

September 12, 1932 October 18, 2012
Mill City, Oregon

 Bobbie Budlong, 80, was born the second child to an Oklahoma farmer. The family relocated many times from Oklahoma to the west coast and it was on one of these trips she met and fell in love with James Budlong in Detroit, Oregon. The two were married in Paris,TX on March 19, 1951 then made their home in the Santiam Canyon where they raised three children. It was after Jims sudden death in November of 2010 that Bobbies health started to decline. After years of battling cancer Bobbie died at home Thursday evening. She is survived by her children, Dennis Budlong of Mill City, Russell Budlong of Salem, and Susan OLeary of Portland; six grandchildren; seven great-grandchildren and siblings Hazel Peeler, Elvin Blan, Mabel Boester and Harold Blan. Funeral Services will be held at 11 a.m. Wednesday, October 24, 2012 at Weddle Funeral Chapel in Stayton. A reception will follow at the Mill City Eagles Lodge. Instead of flowers the family asks that contributions be made to the North Santiam Historical Society or the Mill City Fire Department, two organizations close to Bobbies heart.

Arrangements entrusted to Weddle Funeral Services Stayton, OR.