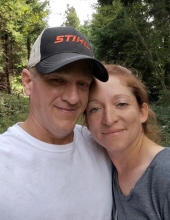 Obituary for Brady Dean Stickler
On Saturday, October 3, 2020, the world lost a kind, gentle soul. Brady Dean Stickler, loving husband, and wonderful father of three amazing boys, McKinnen Stickler, Byron Rains, and Kohan Rains passed away at the young age of 47. Brady lost his very long battle against a genetic disease, known as Short Telomere Syndrome. He fought hard all the way to the end.

Brady was born June 19, 1973 in Coos Bay, Oregon. He later moved to Redmond, Oregon where he grew up. As an adult he lived in Stanfield and Amity, Oregon.  Brady and his family finally settled in Albany, Oregon where they recently purchased their home.  However, Eastern Oregon always held a special place in his heart.

He was raised by his Pop, Dean Stickler; mom, Darlene McPheeters; Dad, Dick Mc Pheeters, and second mom Barbara Stickler.  Brady's brothers and sisters include Connie Gregor, Michael Hayden, Michelle Hayden-Scheck, and Shannon Stickler.

Brady married his soulmate, Diana Stickler, on January 1, 2020 in Lanikuhonua Beach, Honolulu at a place known to the locals as where the heavens touch the earth, after seven years of amazing love and friendship.

He graduated from Redmond High School in 1992. Throughout high school, Brady was in the Police Cadets and then the reserves. From there he was hired as a police officer in Stanfield, Oregon and attended the Police Academy, graduating in 2008. Brady later moved to Amity, Oregon in 2010 where he was a loved and respected police officer. He has done a handful of other jobs such as semi-truck driver, heavy haul semi-truck driver, and mechanic, but his passion was being a police officer. He touched so many lives throughout his career.

Brady was the warmest, kindest soul and he loved with his whole heart. His wife and three boys were his world and he lived everyday for them. Brady was a wonderful Dad, Husband, Son, Brother, and Friend. All who know him loved him.  Brady enjoyed the outdoors and loved camping, fishing, boating, riding four wheelers, going to the dragstrip, BBQ's, and shooting his many guns. He also enjoyed welding and was very talented at it.  He enjoyed doing all of this with his family and many close friends.

Brady is preceded in death by his pop, Dean Sticker; Grandpa, Bob Jenkins; Uncle George Arvidson; Aunt Diane Johnson; Uncle Michael Sticker; and Cousin Jeff Evans.

Service information is pending.  Please check back.