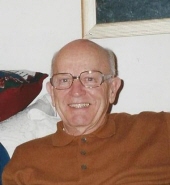 Obituary for CARL HALL KELLY JR.
September 25, 1922 September 29, 2013

Born in Mill City, he lived there all but 10 years of his life.  In 1936 he and his mother and father returned to Mill City.  He graduated from Mill City High School and attended the University of Oregon. Carl married Dorothy Dean (Deanie) Mason May 2, 1943.  She preceded him in death on September 24, 1999. Carl served in the Air Force during World War II.  He and his brother Russell, operated their father's planning mill after their father's death in 1945.  Russell passed away in 1958 and Carl assumed the business of Kelly Lumber Sales and Building Supply Yard. He served on the Mill City Council, as president of the Mill City Lion's Club, President of the North Santiam Chamber of Commerce, on the Board of Directors at Santiam Memorial Hospital, Chairman of the Mill City Planning Commission and president of the North Santiam Community Foundation. He was an elder in the Mill City Presbyterian Church and served 27 years as clerk.  In 1991 he was awarded the Distinguished Service Award by the North Santiam Chamber of Commerce.  In 2003 the Santiam School District voted him into the Hall of Fame. Survivors include his daughter, Karen Jean Hadden of Sunnyvale, California and two sons: Carl Hall III of Encinitas, California and Clare Patrick of Mill City, five grandchildren and eight great grandchildren.  His mother passed away in 1978 and a sister, Rosamond, passed away in 1998. Contributions may be made to the North Santiam Canyon Scholarship Fund. A service will be held at 1pm Saturday, October 12, at Mill City Presbyterian Church.

Arrangements entrusted to Weddle Funeral Services Stayton, OR.