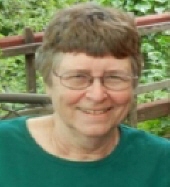 Obituary for CAROLINE E. DIEDE REESE
July 2, 1941 November 9, 2012
Stayton., Oregon

A warm hearted, caring soul, Caroline was always thankful for the wonderful blessings in her life. She succumbed to cancer but wishes to be remembered with love and laughter, not sorrow and tears. Memorial service to celebrate her life is Saturday, November 17th at 1:00pm at Calvary Lutheran Church in Stayton.

She was born in Aberdeen, South Dakota to Henry and Sarah (Whitman) Larson. She has 2 brothers Harvey and Verlin Larson. Her mother passed away at birth. She was lovingly raised by her Aunt Hannah and Uncle Harry, mom and dad.

Caroline married Marvin Reese April 8, 1995 after her previous marriage to Melvin Diede ended in 1992. Caroline and Marvin combined their families of 5 children each to make a new family. They shared many adventures including Hawaii, South Dakota, Minnesota, and Idaho. Caroline loved exploring family history, feeding birds on her patio, gardening, painting, quilting, spending time with grandchildren, and meeting relatives.

Caroline served as Dietary Manager at Marian Estates and worked there for 17 years.

Caroline enjoyed company and cherished a houseful of guests. She loved cooking and visitors were always fed well. She loved to quilt, making over 30 in her lifetime. She was very involved with Calvary Lutheran and Calvary Quilters.

She is survived by her husband and love; Marvin, children and spouses; Rochell Morris, Jolene (Alan) Ronco, Mary (Jeff) Halfman, Janine (Tim) Wald, and Kevin (Nicole) Diede and step children; Linda Burke, Andy (Raeann) Reese, Glynn Reese, Jane Reese, and Cheryl (David) Maxfield. Caroline and Marvin have numerous grandchildren and great grandchildren. She was loved by so many and will be missed dearly.

Donations can be made to Willamette Valley Hospice and Calvary Quilters.

Arrangements entrusted to Weddle Funeral Services Stayton, OR.