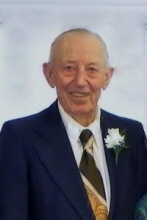 Obituary for CHRISTIAN CHRIS JOHN REBMANN
September 14, 1922 – June 28, 2014
Scio, Oregon Resident.

Christian "Chris" John Rebmann, 91 of Scio, Oregon, died Saturday, June 28th. He was born in Antelope North Dakota and moved with his family to Oregon City, Oregon in 1936. He had three sisters, all deceased, and is survived by his brother, Walter Rebmann of Lebanon Oregon. He enlisted in the Army, Air Force in 1942 as an airplane maintenance technician in World War II, making the rank of sergeant. He received decorations and citations for his service, including four Bronze Battle Stars. Chris married Margy Wanner in 1947. Their children are Ray Rebmann, Sharon Mabe, Dean Rebmann (deceased), Linda Linder, and Betty Jones. He moved to Scio in 1961, farming and working as a Mail Carrier. Chris was an active Community Member including 4-H Leader, Linn County Lamb Fair President, The Grange, The Lyons Club, The Masons, The Scio Mutual Telephone Board and many other community organizations and activities. He is loved by his family including six Grandchildren, and seven Great Grandchildren. Visitation will be Monday, July 8, from noon to 8 p.m. with a Funeral Service on Tuesday, 11:00 a.m. at the Scio Christian Church followed by a graveside service with Military Honors.

Arrangements entrusted to Weddle Funeral Services Stayton, OR.