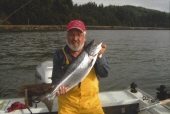 Obituary for CHRISTIAN SCOTT BROWN
CHRISTIAN "SCOTT" BROWN

May 14, 1938   †    Oct. 7, 2013

Christian "Scott" Brown went to be with the Lord on Monday October 7th..  He was born May 14, 1938 in Jefferson, NC. , and was the son of Robert and Mary Brown.  He was 75.  He was married to Judith Monroe and they lived in the Mehama area before he built their home in Lyons.  They moved to Molalla 9 yrs ago.  Judith preceded him in death on Oct. 8, 2012.  Scott had served in the National Guard and had worked in the Timber industry as a logger and millworker until his retirement.    He was a member of the Grace Baptist Church in Molalla and enjoyed lapidary, bike riding, motorcycles, photography, camping, fishing, beach trips with his family and friends. Having fished with his two nephews recently brought him a lot of fish and joy.  He will be loved and missed  until we meet in Heaven. He is survived by his daughter, Vicki Weissenbuehler of Molalla; sisters, Ella Sue and Ennice both of North Carolina; granddaughters; Annalise Weissenbuehler of Molalla,  Rebeca Rymer of Salem, Brittney Rymer of Sherwood, and  6 great grandchildren, Elijah, Marianna ,Valamir, Enrique, Malachi, Antonio.  A  memorial service will be held Friday,  November 15th at Noon at the Grace Church in Molalla.

Arrangements entrusted to Weddle Funeral Services Stayton, OR.