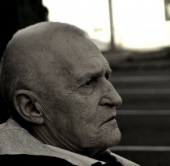 Obituary for CLARENCE V. CARSON
August 9, 1935 October 13, 2012
Lyons, Oregon

Clarence Victor Carson, 77, of Lyons, Oregon passed away on Saturday, October 13, 2012, peacefully in his home.  Clarence was born in Portland, Oregon on August 9, 1935. He graduated from Salem High and continued on to the AirForce's 3392nd Division on the Keesler AirForce base located in Mississippi.  He retired from the Salem, Oregon Boise Cascade Plant in 1997 after over 30 years of dedicated employment.

Throughout his life he enjoyed camping with his family, fishing, hunting and bowling.  His biggest passion was golfing which included being a longtime member of the Santiam Golf Course's Men's Club.  Clarence was a loving father, friend and coworker who will be dearly missed.

Clarence was preceded in death by his father, Clarence K. Carson, wife Carroll C. Carson, daughter-in-law Lisa Marie Carson; and grandson Carson J. Basl.

Clarence is survived by his mother Donna Parsons; sister Donna Shults; cousins Marvin and Alice; sons, Mark Cline, Vic (Etta) Cline , Ken Carson, David Carson; daughters, Debbie (Randy) Gurule, Kate Carson; as well as nine grandchildren.

Funeral services will be held at 11:00a.m. Friday, October 19, 2012 at Weddle Funeral Chapel, 1777 N. Third Avenue, Stayton where all family and friends are invited.

Arrangements entrusted to Weddle Funeral Services Stayton, OR.