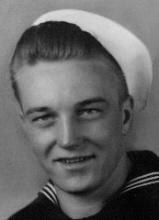 Obituary for CLYDE HATHAWAY
September 25, 1926 – September 23, 2012
Salem, Oregon

Clyde L. Hathaway passed away Sunday, September 23,  2012, just two days shy of his 86th birthday.  The son of Lester and Hulda Hathaway, Clyde was born in Knox City, Texas, on September 25, 1926.  Clyde's siblings, Ila Mae, Norman, Minnie, Glenn, Natalie, Louise, Nellie, Vera and Leola, all preceded him in death.  Clyde and his family lived in Texas until 1931 when they moved to Missouri to take up farming.  After four years of drought, they joined the great migration from the dust bowl to the west and ended up in Mill City, Oregon, where Clyde attended grade school and high school.  Clyde enlisted in the Navy in 1946 where he served honorably both in the Pacific and stateside.  During one of his leaves, he met his future wife, Darlene Isabelle Downer, whom he courted for about one year and then married on June 11, 1950.  They immediately began their family while living in Mill City, but a few years later purchased their first home on Coloma Drive in Salem, Oregon.  Clyde and Darlene moved the family to Redding, California, in 1961, for a job opportunity, and in 1963 purchased 9 ½ acres in Palo Cedro, California, where Clyde built his family home—his masterpiece.  In 1977, Clyde seized an opportunity to move to Tulelake, California, to start a new business and be closer to a beloved sister, who was losing a battle with cancer.  After 10 years, Darlene began to miss her family back in Salem, and so the two moved back to their home on Coloma Drive.  Clyde survived stomach cancer in 1991 only to be faced with Darlene's diagnosis of early Alzheimer 's and Parkinson's, from which she passed on August 24, 2000.  Clyde's professions included gas station proprietor, auto body and paint shop proprietor and real estate broker, but his many years falling timber were his proudest.  Clyde enjoyed his family and friends, painting, woodworking, and spending time outdoors, and was an avid NASCAR, San Francisco 49er, San Francisco Giant, and Oregon Duck fan.  Clyde is survived by his four adoring daughters, whom he cherished: Sandra, Cheryl, JoEllen, and Pamela, as well as ten grandchildren and 12 great grandchildren.

Graveside and military honors will be held at Fox Valley Cemetery, Lyons, Oregon, on Saturday, October 13, 2012, at 11:00 a.m.

In lieu of flowers, memorials may be made to the Oregon Chapter of the Alzheimer's Association.

Arrangements entrusted to Weddle Funeral Services Stayton, OR.