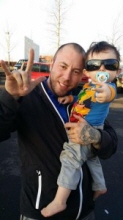 Obituary for COREY HALL
April 29, 1985 – July 18, 2014
Salem, Oregon

Corey Hall was born in Portland, Oregon on April 29, 1985. He passed away on Friday, July 18th in Salem. He was 29 yrs. of age. Corey lived in Salem most of his life and graduated from McKay High School Class of 2003. Corey was a Personal Trainer for health and fitness centers in Washington and Oregon, and recently for International Fitness in Eugene. He had coached wrestling for the North Salem Mat Club. He enjoyed Disc golf, wrestling, coaching sports and working out. He is survived by his parents, Terri Hall of Salem and Bud (Lauri) Jackson of Mehama; mother of his child; Jenna Parker; son, Kobe Hall; siblings, Shannon Lettenmaier, Neil Jackson, Kiera Gabaldon; nieces, Isabella Jackson and October Lettenmaier. Memorial service will be held on Monday, July 28th at 2:00 pm at the Pringle Hall Community Center, 606 Church Street SE, Salem.

Arrangements entrusted to Weddle Funeral Services Stayton, OR.