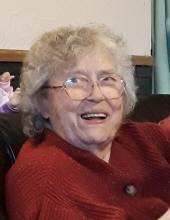 Obituary for Carol Eileen Hagle
Carol Eileen Hagle, was born February 9th, 1938 in Hillsboro, Oregon to Gordon and Leora (Williams) Layton.  As a young child the family moved to Sweet Home, Oregon, where Carol would attend school and graduate from Sweet Home High School in 1956. 

Carol married her high school sweetheart, Donald "LeRoy" Hagle and together they had four children; Greg, Sandra, James and Kevin.  They would eventually divorce but would remain friends until Don's passing in 2012. 

Carol worked at Mollie's Bakery for many years where she enjoyed the socialization and friendships that came with working there. When Carol was not working, shel was volunteering somewhere throughout the Sweet Home community; SHEM, Fair Share, Sweet Home Senior Center and over 15 years at the Oregon Jamboree; where she fell in love with Alan Jackson.   

In 1984, alongside several  other community members, Carol helped found the Sweet Home High School Senior all night party, known as "S.A.F.E.",  Carol also helped found the first ever girls summer softball league in Sweet Home at a time when only  "Little League" baseball was available.  Even with her time stretched thin with all of her activities and volunteering, Carol always made time for her family, friends and God. 

Carol, also known as "Ma Hagle" to a multitude of youth in Sweet Home, was always willing to take in, care for and love any child who needed her. 

Carol thoroughly enjoyed playing Pinochle, other card games, Bunko, Bingo and Tile Rummy with her daughter, granddaughters, grandson and closest friends.   

She was an active member for many years with the Church of Christ now known as Sweet Home Christian Church. In 1981 Carol helped with fundraising and chaperoned a Church of Christ youth group mission trip to Tijuana. 

Carol passed away at home on June 4, 2020, surrounded by her family after a brief but courageous battle with cancer. 

She is preceded in passing by her parents, Gordon and Leora Layton; and eldest son Greg, (1984). 

Carol is survived by her daughter, Sandra Lynn Hagle/Brown, son, James Donald Hagle, his wife, Abby Virtue-Hagle, (their children Katie Graville, Daniel Virtue, Nate Virtue, and stepson Brandon Morago), son, Kevin Stuart Hagle, and his wife Micki Hagle; Grandchildren, Dustin J. Hagle, Jordan S. Hagle, Kalyn B. Hagle/Zachery Mendoza, Allison J. Brown, Emily M. Brown and Remi N. W. Hagle along with six great-grandchildren - whom she adored very much. Carol is also survived by her brother Leslie Layton and his wife Deloris and her brother Evan Layton and his wife Shirley. 

Carol's Memorial Service will be held on June 20, 1 p.m., at Star Attractions Events Venue, 42648 Ames Creek Rd., Sweet Home.   

A private family gathering will be held on a later date at Gilliland Cemetery in Sweet Home, Oregon, where Carol will be laid to rest with her son, Greg Hagle.


Previous Events
Memorial Service
Star Attractions Events Venue
42648 Ames Creek Rd.
Sweet Home, Oregon 97386
Cemetery Details
Location
Gilliland Cemetery
350 50th Ave
Sweet Home, Oregon 97386