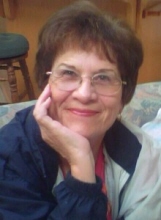 Obituary for Carolyn Beebe
Carolyn Beebe

March 23, 1943 October 19, 2015 

Sublimity, Oregon

Surrounded by loved ones at home, Carolyn Tiger Beebe took her last breath on the morning of October 19th, and finally experienced complete freedom with Christ. She was born March 23, 1943 to DeWitt and Vurna Tiger in Henryetta, Oklahoma. Moving to Oregon when she was four, Carolyn would later graduate from Stayton High School in 1961. She married Marvin Champ in 1963, and together they owned and operated Marv's Sporting Goods and had two children. Parting ways in 1976, Carolyn lived in Portland, Salem, and later settled in Sublimity. During her active life, Carolyn built numerous lasting friendships. She assisted Dr. Ken Horn, sold real estate, owned and trained race horses, worked for the Department of Revenue, and served as a nail technician. She loved playing cards and was a member of a pinochle group for over 40 years. She was proud of her siblings and of her Creek Indian heritage. In 2003 Carolyn married her high school sweetheart, Ron Beebe. They enjoyed dining out, taking trips to the coast, and going on adventures with grand kids. When health challenges hindered their journey, Ron devoted himself to her tender care. Our hearts are heavy for we miss her strength, her humor, and her love, but we rejoice that she is now dancing in heaven.

She is survived by her husband Ron Beebe; children Marlyn (Mandi) Champ, and Marla Kay (Shawn) Trahan; grandchildren Cody Trahan, Megan Trahan, and Emily Champ; siblings Betty Miller, Lori Davis, Peggy (Lavern) Spitz, Wanda (Joe) VanGulik, George (Marie) Tiger, and Susan Kuhnle; sister-in-law Edie Tiger; as well as 31 nieces and nephews. She was preceded in death by her parents, and siblings Wynona Farris, Mary Winter, Helen Collins, and James Tiger.

In lieu of flowers, the family suggests contributions in Carolyn's name to Foothills Church, 975 Fern Ridge Rd., Stayton OR, 97383, or Crystal Peaks Youth Ranch, 19344 Innes Market Rd., Bend OR, 97701.

A memorial service will be held at Foothills Church in Stayton on Sunday, October 25 at 2:00 p.m.

Arrangements entrusted to Weddle Funeral Services.