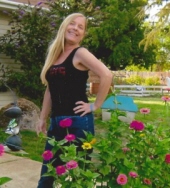 Obituary for Carolyn Lee Poe
Carolyn Lee Poe

March 13, 1950 July 1, 2015

Scio, Oregon

Carolyn Lee Poe, 65, of Scio, Oregon passed away peacefully after a long and courageous battle with cancer. She was born on March 13, 1950 in Raleigh, North Carolina to Frank and Mildred Gilliam. Carolyn attended Lane Community College in Eugene. She raised her two daughters in Southern California, then moved to Medford, Stayton, and finally settling the last 5 years in Scio. Many of those years were spent with her long-time companion, Ronnie Wrinkle. Carolyn worked as a manager for Salvation Army for many years and she also spent time as a caregiver. At one if her jobs in the 1980's, she was named top saleswoman for the whole west coast. She enjoyed fishing and gardening. Carolyn was a woman of strength. She was spunky, ornery, bossy, and a fighter, battling cancer for over two years.

Carolyn was preceded in death by her son Thomas Taylor. Carolyn will be greatly missed by her mother Jan Gulledge; daughters Jeanna Fox and Ligiea Taylor; son Thomas Taylor; companion Ronnie Wrinkle; siblings Georgia and Roger; grandchildren Nicholas, Alexis, Crintas, Kaila Rey, Karra, Joel, and Ever Lovely; and great-grandchild Ricky.

A memorial service will be held on Thursday, July 16 at 10:30 a.m. at Weddle Funeral Chapel in Stayton. Arrangements entrusted to Weddle Funeral Services, online condolences at www.Weddle-Funeral.com.