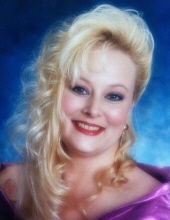 Obituary for Cathy Ann Elizabeth Walther
Cathy Ann Elizabeth Walther was born on August 13,1960, in Springfield, Virginia, to Emil and Elizabeth (Zielinski) York. She grew up in Virginia with two brothers. After graduating high school, she moved to California. While living in San Marcos, California, Cathy met Paul Walther. The two started as just friends, but over time, their fondness for one another grew into a beautiful love story. The couple moved to Oregon in 1999 to be closer to Paul's only son. On May 13, 2000, the couple wed in Salem, Oregon.

Cathy and Paul loved being out on the water boating and fishing, and did so for as long as Cathy's health would allow. Even though she was in constant pain, Cathy was determined to still live a full life within the limitations set for her by her body. She was an incredible cook and loved to provide delicious meals and treats to those she loved.

Cathy had a great sense of humor, never taking anything too seriously. She could laugh at herself and others. One of her passions was watching true crime stories on the ID channel; she would have loved to be right there with the investigators. Cathy loved animals and had a sincere passion for them. She loved volunteering at the Salem Humane Society. She leaves behind a 2 year old black female lab named Jinx and two 6 month old kittens, Bonnie and Clyde.

Most of all, Cathy was a lover of people. It meant so much to her to minister to others, even through her pain, never letting people know how ill she really was. All she wanted to do was help others, especially those with chronic pain issues, as she knew their plight all too well. Cathy was a beautiful person, inside and out. She was a true angel.

Cathy was preceded in death by her father Emil York and brother Chris York. She is survived by her husband, Paul Walther; mother Elizabeth York; children Cameron Walther and Cara Hardy; granddaughter Leona Howell; brother JJ (Mary Anne) York; sister-in-law Leslie York; sister-in-law Jenifer Marlin; and several nieces and nephews.

In lieu of flowers, please send donations in Cathy's honor to the Humane Society.


Previous Events
Celebration of Life
Weddle Funeral Service - Stayton
1777 N. Third Avenue
Stayton, OR 97383