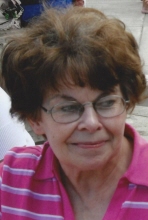 Obituary for Cecelia R. Ferguson
Cecelia R. Ferguson

February 9, 1943 October 22, 2013

Born in St. Joseph, Missouri, Cecelia moved to Oregon with her family and graduated from Valsetz High School in 1961.   She married Darrel Dean Ferguson in 1966. They raised their family in Scio, but later divorced.  Cecelia worked at Norpac in Stayton from 1983 to the present.  She was a member of the Teamsters Local 670 and was an honored recipient of Employee of the Month many times.   Her greatest joys were spending time with her grandchildren, Eleanor, Aaron, Logan, Olivia, Andrew and Gracie.   She also enjoyed her time with the gals from work.  She will be greatly missed by her children; Mark, Joey and  Mychal Ferguson, her brother, Joseph and her six grandchildren.  Visitation: Monday, October 28, at Weddle Funeral Chapel from 3:00 to 5:00 P.M.  A celebration of her life will be Tuesday, October 29, 2013 at 4:00 P.M.  at Weddle Funeral Chapel, Stayton.

Arrangements entrusted to Weddle Funeral Services Stayton, OR.