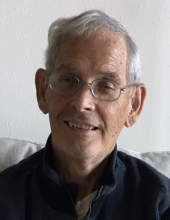 Obituary for Charles "Chuck" Arthur Sergeant
Salem- Charles "Chuck" Sergeant was born February 28, 1949, in Grants Pass, Oregon, to Chuck and Ellen (Kinney) Thomas. After graduating from Grants Pass High School, Chuck served two years in the US Army and was stationed in Germany until 1970. Chuck married Sally Davis and they started a family, raising a son, Kevin, and two daughters, Jenny and Chelsea.

Chuck became a GIA certified gemologist and over the years, he managed jewelry stores on the west coast, Utah and the mid-west. Chuck excelled at work and received many awards for his exceptional performance in the jewelry industry. He went on to open his own jewelry appraisal business for twenty years until his retirement.

Chuck and Sally settled back in Oregon in 1990. Chuck coached youth sports and was a valued mentor to those athletes. He was a member of the Catholic Church and sang in their choir for many years.  In his free time, he enjoyed watching sports and was a fan of University of Oregon football and the Trailblazers. He loved all types of music but especially the early bands, Bread and The Eagles.

Chuck was blessed with seven grandchildren. They brought him great joy and he always wanted them around to tease, hug and spoil.

On April 3, 2021, Chuck passed away peacefully at his home surrounded by family.

He was preceded in death by his parents and brothers, Richard and Carroll. Chuck is deeply missed by the family he left behind including his wife Sally; children Kevin Sergeant, Jenny (David) Fessler, and Chelsea (Clint) Melsha; grandchildren Autumn, Macy, Brynn and Elle Fessler, Truman Sergeant, and Charlotte and Cate Melsha; and siblings George Gwynne, June Hopkins, Lillian Barnett, and Robert Faler.


Cemetery Details
Location
Willamette National Cemetery
11800 Mt Scott Blvd.
Portland, OR 97086