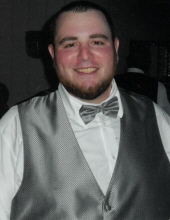 Obituary for Chris "Cheese" Kelley
Chris (Cheese) Kelley was born in Ocala, Florida, to Steve and Leigh Kelley. He has a younger brother, Carson, and sister-in-law, Kailey. He was a fiercely independent child with a strong will. Even as a youngster, Chris gravitated toward older people and could easily carry-on conversations with adults. A sports fanatic from birth, he would spend his short life playing, officiating, watching, talking, and writing about all things sports. Being from Florida, his favorite team was the Florida Gators. The family lived in Florida until 1998 when they moved to Wyoming for a couple of years, then to New Mexico for a year, before finally settling in Oregon in 2001- just in time for Chris to enroll at Lebanon High School.

Shortly after starting high school, he was in the football weight room trying to get the guys to call him by the nickname given to him in New Mexico, which was "Big Chief". Well, the coach thought he said "Big Cheese" and boy did that nickname stick. Even as an adult, most people only knew him as "Cheese". After his first two years of high school in Lebanon, his family moved to Sweet Home. He would attend the next two years and graduate in 2005 from Sweet Home High School. In 2004 he represented the state of Oregon at the national level in Delaware and North Dakota wrestling competitions. As a high school senior, he earned the titles of state reserve champion in wrestling and all-state offensive tackle for 3A football. Cheese loved his coaches and teammates and was very connected at Sweet Home. He lettered in football, wrestling, and baseball in both years in high school.

After high school, Chris's love of sports led him to pursue an education in sports medicine for a time at Chowan University in Murfreesborough, North Carolina, where he was also able to play football for two years. Upon returning to Oregon in 2007, he attended Linn Benton Community College where he continued his obsession with sports. Chris was a sports reporter for the college newspaper with aspirations of turning sports journalism into a career. In addition, he was a radio broadcasting assistant for the Western Oregon University football team and was a junior reporter for OregonLive/Oregonian newspaper, but life intervened and Cheese found his true passion!!

Cheese became a baseball umpire and absolutely loved his new-found career. Umpiring was serious business to Cheese, and professional development was extremely important to him. He went to trainings and classes whenever he could to improve his skills. He constantly solicited feedback from his umpiring colleagues. Once when Chris was working a Reds/Dodgers Triple-A split squad game, he officiated a nearly flawless game according to his umpire friends. Umpiring led him to spend half of the year in Arizona and half in Oregon. It was the best of both worlds - he loved the Arizona winters and Oregon summers. Even when Cheese was not working on the baseball diamond, his passion for sports was a 24 hour a day obsession.

Fanatical doesn't even begin to describe Cheese's love of fantasy football. He was on several leagues and spent a lot of time choosing teams and following their progress. For the fantasy league he and his brother were in, the whole group would get together and rent a beach home for the weekend, so they could be together to draft their teams.

Cheese was outgoing and made friends easily, making lasting connections wherever he went. He had a trail of friends stretching across the country. On one road trip back to Florida in 2015 with his mom, Cheese had to make stops in several states to see friends all along the way. All these stops were related to athletic relationships that had developed as early as high school.

Sadly, on December 24, 2018, Chris took his own life. We will never know why but this will not diminish how he was loved deeply and immediately by all who knew him and will be sorely missed by his friends and family. He was a giver with a big heart! In lieu of flowers, the family is asking for a donation to the American Foundation for Suicide Prevention. The information may be found at https://afsp.donordrive.com/campaign/Chris--Cheese--Kelley-Memorial-Fund

No local service is planned at this time. The family is planning a "celebration of life" to be held in Blue Ridge, Georgia in the early summer of 2019. Chris's friends and family are encouraged to leave their pictures and stories on this website as they will be used to create a CD of Chris's life.


Events
Event Information
Services will be set for a future date to be determined.