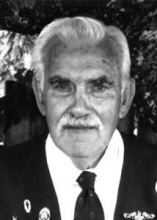 Obituary for Clarence Dale Scotty Scott
Clarence Dale Scotty Scott

December 23, 1926 July 9, 2016

Aumsville, Oregon

Clarence was born on his grandparents ranch on Fishback Hill outside of Monmouth, Oregon on December 23, 1926 to Burt and Orel Scott. He was the second of six sons. Clarence died peacefully in his sleep with family by his side on Saturday July 9th, 2016 in Sublimity, Oregon.

Clarence met the love of his life, Audrey Crabtree, in high school. He served his country in the Navys Pacific Submarine Fleet during World War II. Upon his return, he and Audrey married on May 1st, 1947.

In their 69 years together, Clarence and Audrey had 7 children Barbara (Gary), Deborah (Mike), Steven (Seretha), Jeanelle, James, Mikel, and Lisa (Roberto); 26 grandchildren; 36-1/2 great-grandchildren; and 2 great-great-grandchildren. Clarence is preceded in death by his son James, his grandson Scott, his great-granddaughter Calli, his parents and his 5 brothers.

Clarence was employed in the timber industry his entire career, working in many western states and in Central America. He was an active member of the U.S. Submarine Veterans of World War II, where he served in several positions on the Board, including as National President from 2007-2008.

Clarence and Audrey have lived in Aumsville for the last 40 years. Clarence enjoyed gardening, fishing, reading, wood working, eating cookies, and spending time with family (especially making his grandchildren popcorn and attending family reunions).

Clarence was an active member of the Church of Jesus Christ of Latter-Day Saints. His funeral service will be held at the LDS church (1400 Western Ave, Stayton, Oregon) Saturday July 16, 2016, with a viewing at 10 a.m., service at 11 a.m., followed by a graveside dedication with military honors at the Aumsville Cemetery.

Arrangements entrusted to Weddle Funeral Services.