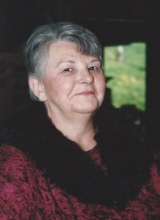 Obituary for Clydia Punkin Emmerson
Clydia Ruth (Punkin) Emmerson (Storey)
June 5, 1941- August 14, 2017

Punkin passed away Monday night surrounded by her loving family. Clydia Storey was born June 5, 1941, in Salem, OR to Clyde and Goldie Storey of Idahna, OR. She was the first of 6 children to the family. Punkin grew up in Idahna and attended school in Detroit. She started school in old Detroit, and finished up her school career in new Detroit. During her Senior year, she met the love of her life, LeRoy (Tex) Emmerson, they were married July 6th, 1959 in Vancouver, WA. During their marriage they enjoyed a full life, between kids, grandkids and great-grandchildren there was never a dull moment. Punkin enjoyed cooking for her family, especially her potato salad, painting ceramic Santa's, jigsaw puzzles, and numerous sewing and crochet projects for the family over the years.Punkin worked at LaVelle's in Amity for many years. When the family decided to move to Texas, Punkin continued to sew at a shop in Andrews, TX. The family eventually moved back to Oregon. Punkin then decided to work for herself making custom draperies and reupholster furniture. Punkin is proceeded in death by her loving husband, Tex Emmerson, a grandson, and a brother and sister. She is survived by her daughter and son-in-law Ronda and Tim Pierce of Keizer, OR; son Bobby Emmerson of Salem, OR; 6 grandchildren and 8 great grandchildren; Sister Nancy Storey of Salem, OR; Brother Frank Storey of Stayton, OR; Brother Stephen Storey of Salem, OR; Sister-in-law Louise Linville of Mapleton, OR. As well as many nieces, nephews and cousins. A memorial service will be held on Saturday, August 26, 2017 at 3:00PM at Weddle Funeral Chapel, Stayton.