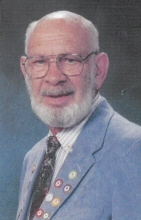 Obituary for DALE L. RECKARD
DALE  L.  RECKARD

Jan. 6, 1935   †   Oct. 25, 2013

Dale, 78, died at his home with family by his side.  Dale was born in Page City, Kansas.  He graduated from Eatonville High School in Washington in 1953.  He then joined the Air Force in 1957 and served for 4 years.  In 1961 he was married to Doris Reed, the love of his life.  They moved to Valsetz where he worked in the lumber mill until 1984.  They then moved to Salem where he began work as a Power Plant Operator for the University of Oregon.  He retired in 1999. He was preceded in death by his wife, Doris, of 49 years on Feb. 21, 2011. He was also preceded in death by his daughter, Dana; parents, Lee and Elsa Reckard.  He is survived by his sons, Dean Reckard of Lincoln City and Darren Reckard of Salem; brother, Ronald (Jan) in Virginia; sisters,  Roxanna (Steve) Wagstaff of Utah, Rita (Larry) Chase of Dallas, OR; 8 grandchildren; and 11 great grandchildren. Despite all of his medical conditions, he had a happy and fulfilled life.   Memorial service will be held on Saturday, November 2, 2013 at 1:00 pm at the Dallas Masonic Lodge, 140 Clay Street, Dallas, OR 97338.  Potluck reception to follow at the Lodge.  Memorial contributions in lieu of flowers may be made to the Parkinson's Disease Foundation.

Arrangements entrusted to Weddle Funeral Services Stayton, OR.