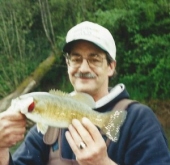 Obituary for DANIEL LAWRENCE ENOS
February 24, 1951 – May 6, 2014

Mill City – Daniel Enos passed away at home on May 6, 2014. He was born in Chula Vista, California to Clarence and Shirley Enos on February 24, 1951. He married Angela on August 12, 2008. Daniel worked at Jeld Wen for 15 years and at Home Depot for 1 year. He was an avid fisherman and outdoorsman and coached children's beginner sports in the Santiam and Lebanon schools. Daniel is survived by his wife, Angela; children, Christine, Nikki, Mandi, Tiffany, Tonya, Crystal, and Travis; 17 grandchildren; sister, Donna; and twin brother, David.

Arrangements entrusted to Weddle Funeral Services Stayton, OR.