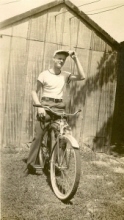 Obituary for DOUGLAS ALFRED MENTZE
Our dad, Douglas A. Mentze, 92, died June 20th, 2012, with family by his side in Oregon City, Oregon.

Douglas was born May 19, 1920, in Bellflower, Missouri to Simon and Maggie Mentze. He was a medic in the Army during World War II. After the war he attended Central Bible College in Springfield, Missouri, graduating in 1951.

Dad ministered and served in Idaho, Washington, and Oregon. His time of formal ministry spanned the years of 1951 to 1985.

He is survived by his six children; Judy, Earl, Rick, Gary, Mark and Duane, 16 grandchildren, and 25 great grandchildren. Thank you friends of the family for all your love and care and good times over the years. As you know and understand, dad has gone home.