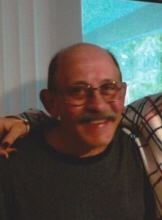 Obituary for Daniel M. Minten
September 22, 1957 June 18, 2014

Daniel Martin Minten was born in Stayton, Oregon to Edward and Dorothy Minten. He attended Stayton High School, where he belonged to the Drafting Club and Vocational Industrial Club of America, and won 1st place in a Sheet Metal Competition. He married Deniese on October 22, 1976 and they had 2 children; Lisa and Jeffrey. Dan lived and raised his children on a family farm between Scio and Stayton. He moved from that farm Stayton to Aumsville in 2005. Dan spent his entire adult life, 39 years, working for Amerimax in Stayton. He loved his job and was well liked by those he worked with. Dan always had a friendly smile and infectious laugh. He enjoyed fishing, RC cars, gardening, drag races, 4-wheelers, camping, watching Blazer games, and most of all he loved spending time with his family. Dan was a loving and devoted father and grandfather. He was a beloved son, husband, father, brother, uncle, and friend and will be greatly missed by all who knew him. A prayer vigil will be held on Monday, June 23 at 6:00 P.M. and Funeral Mass Tuesday, June 24 at 11:00 A.M. both at Immaculate Conception Catholic Church in Stayton. Dan will be laid to rest at Aumsville Cemetery. Memorial contributions to American Lung Cancer Society.

Immaculate Conception Catholic Church http://www.immacstayton.org/

Arrangements entrusted to Weddle Funeral Services Stayton, OR.