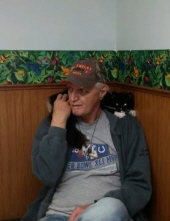 Obituary for Darrell Floyd Baze
Darrell Floyd Baze passed away on July 11, 2021 in Lebanon, Oregon. He was born in Dallas, Texas on July 4, 1950, to Alvin Floyd and Phyllis Magdeline (Gordon) Baze. Darrell lived in Hesperia, California, Fairbanks, Alaska and Lebanon, Oregon.  

Darrell loved his family, carving, music, karaoke, and his Corvette. He was well known for his custom textures and artistry. He was a gentle soul, soft spoken and was the kindest person you would ever meet. I will be dearly missed.  

Darrell was preceded in passing by his father, Floyd Baze of Lebanon, OR; mother, Phyllis Baze of Los Serranos, California; his step-mother, Carol Baze of Lebanon, OR; and sister Debbie Gray or Perry, OK.  

He is survived by his loving wife of 21 years, Irene Baze of Oregon; Daughters Crystal Kontos and Carrie Arbuckle, both of Indiana; brothers, Bill Baze, Bob Baze of Oregon; Sisters, Danna Crider of Oregon and Deena Lee of Arizona; Grandchildren, Toni Kontos, Tyler Kontos, Joey D.Cocco and Brook Mosbaugh of Indiana; and 11 nieces and nephews in Oregon, Washington, Oklahoma and Arizona.  

A Celebration of Life will take place at River Park in Lebanon, Oregon on September 18, 2021 at 1:00 PM.