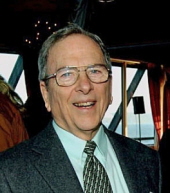 Obituary for Darryl Linden Comstock
Darryl Linden Comstock

September 16, 1933 February 17, 2015

Stayton, Oregon

With sadness we announce the passing of Darryl, beloved husband, father, brother, grandfather, great-grandfather and uncle.

Tuesday evening, February 17, 2015 Darryl fell asleep peacefully, with his wife, Betty Janet (Tonn) and family singing his favorite hymns as they surrounded his hospital bed.  Darryl went into the Santiam Memorial Hospital on Friday, February 13, 2015 with pneumonia, he was 81 years old.

Darryl Linden Comstock was born September 16, 1933 in Los Angeles, CA, to parents, Howard and Josephine Comstock.  The family moved to the San Jose, CA area in 1938 where his beloved sister, Deanna, was born in 1939.  Darryl began church school in the little two-room Richmond school in 1947 and attended Golden Gate Academy in Berkley and later in Oakland, CA.  After graduation he went to Pacific Union College where he met his brown-eyed charmer named Betty Tonn.  She began nursing at Loma Linda University the next year and he followed, attending La Sierra College.  They were married in Lodi, CA in 1954.  They returned to PUC where girl and boy twins (Sharyl and Darryl II), were born in 1955 followed by a boy (Douglas) arriving two years later.  Darryl graduated with a BA in public relations in 1957 and later earned his MA in education in 1972 from Pacific Union College.  He began teaching church school in Bakersfield at Bakersfield Junior Academy in 1958.  After two years he went to Miramonte Elementary School in Mountain View for two years and then returned to Golden Gate Academy in Oakland to teach for eight years and serve as principal for two more years.  The family moved to Salem, OR in 1972 where Darryl taught at Livingston Junior Academy (now Livingston Adventist Academy) for 10 years.  From there, Darryl continued his teaching/principal career at Central Valley Junior Academy near Albany, OR.  Darryl and Betty moved to Kauai, Hawaii where he taught the last five of his forty-year career.  They retired to a beautiful creek side property near Stayton, OR and attended the Stayton Seventh-day Adventist Church.

Darryl dedicated his life to Christian education serving in the Seventh-day Adventist school system for over 40 years as teacher and principal.   Seated on the corner of his desk, Mr. C inspired his students with a desire for knowledge and a love of their Savior.  With wit and stories he opened the wonders of learning to his students.

Darryl enjoyed staying in contact with friends and family, whether in person, or on the internet by email or with his much anticipated annual Christmas letters.  He especially loved hearing from and about his former students.  Darryl has been actively involved with his local Seventh-day Adventist Church for many years serving as church elder, church board chairman, speaker, Sabbath School teacher and greeter.  Other interests Darryl enjoyed, were keeping up with current events.  He had, an avid interest in religion, politics and history especially WWII events.  His family learned to schedule their visits and phone calls around his favorite Sunday talking head shows or 60 Minutes.  Since his teens, Darryl has had a great love of cars and still subscribed to his favorite car magazines.  In the past his interest included model railroads, the latest and greatest in stereo equipment, and he had an extensive collection on all things relating to the Titanic.

Darryls greatest love was for his Lord and Savior Jesus Christ.  He had such a tremendous desire to share with others his understanding of the beautiful character of God.  He spent countless hours in prayer, Bible Study and preparing sermons to share with various churches in the Oregon Conference.  His next great love was his beloved wife, children, grandchildren and great-grandchildren.  His extended family, friends and his beloved students were always close in thought and prayer.  His greatest joy will be the return of Jesus and being reunited with all of his loved ones.

Darryl was preceded in death by parents, Howard and Josephine Comstock.

Darryl will be greatly missed by his wife, Betty of 60 years; his sister, Deanna (Milton) Kindrick; Brother-in-law Dr. Elverne (Ann) Tonn; children, Sharyl (Ken) Ashley, Darryl II (Elaine) Comstock, and Doug (Shirley) Comstock; Grandchildren, Calista Comstock (Caleb Foss) and Casey Luport; and precious great-grandchildren, Reef and Emery Foss; nephews, Jim Tonn and Joel (Rozy)Kindrick.

A quiet family internment was held on Friday, February 20th at Lone Oak Cemetery in Stayton, OR.  There will be a Celebration of Life Service planned for Saturday, March 7, 2015 at 3:30 pm at the East Salem Seventh-day Adventist Church, 5575 Fruitland Road NE, Salem, OR.

Darryls life-work was Christian education.  In lieu of flowers, Darryl would be honored if donations were made to Livingston Adventist Academy, 5771 Fruitland Road NE, Salem, OR, 97301.

The family wishes to thank Dr. Paul Neumann, PC for his friendship and the special care he gave Darryl over the years as his primary care physician.  The family is grateful for the thoughtful care the last two years of Dr. John Silver, MD, FCCP and the kindness, expertise and careful attention he provided over the last few days of Darryls life.  Gratitude is expressed for the loving care provided by the staff of Santiam Memorial Hospital and the staff of Brookdale Stayton, both of Stayton, OR.  The family wishes to thank Weddle Funeral Services for their kind care, also of Stayton, OR.

Arrangements entrusted to Weddle Funeral Services Stayton, Oregon.