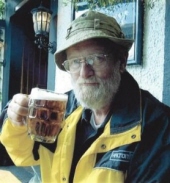 Obituary for David H. Stere
David  H.  Stere

May 23, 1940 August 25, 2015

Stayton, Oregon

Dave Stere was born in New Kensington, PA, son of Henry Stere and Sarah Throne Stere. He had one sister, Nancy. He graduated from high school in Illinois and received his Bachelor degree with honors in Forest Management at The University of Idaho in 1962. There he was in the Navy ROTC before entering active duty upon graduation. He served on the Vesuvius, the Kitty Hawk and, as Engineering Officer, on the Finch during the Viet Nam war. In 1966 he was hired by the State of Oregon, Department of Forestry, where he served for 34 years and was much appreciated as a valuable resource. Dave and Bonnie were married on June 24, 1978 in Sag Harbor, NY and made their home in Stayton, raising two children, Jeanne Marie and Matthew. Besides traveling, they also enjoyed raising cows, sheep, a few horses, assorted fowl, dogs and cats, and much feed for all. Dave was a bit of an animal magnet as he was a very gentle, dependable, and consistently caring person. He was an active member of Calvary Lutheran Church, the Festival Chorale Oregon, International Wood Collectors (IWCS), Guild of Oregon Woodworkers, the Antique Truck club (ATHS), his Navy ROTC alumni, and Finch Reunion Alumni. Dave had a rich and full life in his service to his community, his family, his church, and the Lord. He enjoyed years of retirement creating woodworking projects and developing his business Good Fir Yew using as many local resources as possible. He is survived by his wife Bonnie; children Jeanne and Matt; beloved granddaughter, Toriann Jane Bohenek; sister Nancy Ribble of Knoxville, TN; two nephews, Scott and Matthew Ribble; and godson, Kyle David Griswold. A service was held on August 30 at Calvary Lutheran Church in Stayton.

Arrangements entrusted to Weddle Funeral Services.