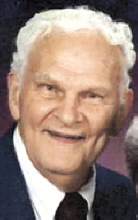 Obituary for David Leon Warner
David Leon Warner December 19, 1927 July 7, 2009 TURNER David, born to Roland and Margaret Warner at home in Drain, Ore. Survived by wife, Loretta of Turner; and daughter, Beth Warner of Oregon City; two older brothers, Richard of Campo, Calif. and Ralph of Eugene; and a younger sister, Donna Obert of Corvallis; plus two grandchildren. There will be a private interment at the Historical Warner Cemetery in Broadbent, Ore. In lieu of flowers, you may make a contribution in Davids memory to The Turner Retirement Homes, P.O. Box 58 Turner, Ore. 97392.

The Memorial Service will be at 11 a.m. on Monday, August 10 at the Turner Christian Church in Turner. Arrangements entrusted to Weddle Funeral Service.