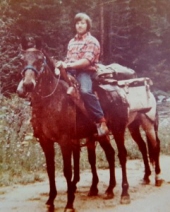 Obituary for David Sterling Boatman
David Sterling Boatman

June 5, 1951 August 3, 2016

Salem, Oregon

David S. Boatman born June 5, 1951, in Grants Pass, OR to Eugene & Clarice Boatman.  He grew up in Salem and graduated from South Salem High in 1970.  He married his loving wife, Betty, in 1978.  They had 2 wonderful children, David and Jennifer, and 4 very loved grandchildren.  He cut meat for over 25 years, primarily for Frey's Thriftway and Roths .  He retired from Roth's in 2015.  He loved his adventures with his family very much including hunting, fishing, horseback riding, camping and telling stories by the campfire.  He will be missed very much.  Celebration of Life will be held at the Salem Heights Church (375 Madrona Ave SE) on Saturday, August 13, 2016, at 2:00 pm.   In lieu of flowers please contribute to the Leukemia & Lymphoma Society (https://donate.lls.org/lls/donate). Arrangements entrusted to Weddle Funeral Services.