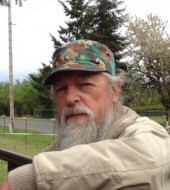 Obituary for Donald Raymond Anklam Jr.
Donald Raymond Anklam Jr. 

Cheech

December 16, 1948 February 7, 2016

Lebanon, Oregon

Cheech was born to Don and Zora Anklam on December 16, 1948 in West Branch, Michigan. He joined a one-year-old brother, who was unable to say his real name, and thus began the start of who we've known as "Cheech" in many parts of the country.  Four years ago, "Chong", his dog,  joined the family and continues to bring laughter to the home.

Cheech graduated from Carrollton High School in Michigan achieving high honors as a Co-Captain in football.  He was well loved in school and an all around fun person, known for his contagious laugh and sense of humor.  After school, he became an IBEW Journeyman and used that skill to travel the USA and explore this interesting country, making many friends, laughing and loving the freedom of his trade. 

In 1976 while on his travels, he met the love of his life, Londa Nelson.  Cheech and Londa celebrated 38 years of marriage last August and to that God blessed them with two amazing daughters:  Anna Hamburg and Amy Daniels.  They blessed them with two wonderful son-in-laws: Rob Hamburg and Matt Daniels plus four grandchildren; Amelya and Leah Hamburg of Lacomb, Oregon; Parker and Corbin Daniels of Melbourne, Florida.   

Oregon became home base for the Anklam family but did not stop them from traveling.  Homes were established in several locations, but Coos Bay was by far his favorite in the end.  They lived there for over a decade and were immersed in work, church and water activities in the Pacific Ocean and Lakeside.  Work was often very limited in his trade at home, so when he got a job in Corvallis, Oregon at HP, they moved to a small hobby farm in the foothills outside of Lebanon.  This has been home base for the past 20 years and up until he left the morning of Super Bowl Sunday to dance with the Angels.  And, he probably watched the game with his beloved/departed cousin Jimmie Anklam, who passed away five years ago on this same day.

He is also survived by two sons; Matt Anklam, Chris Anklam and his family, and seven siblings; Sue Kapke, Dan Anklam, Lisa Tribble, Dennis Anklam, Joe Anklam, Mari Ostrander and Patti Madaj.

He is preceded in death by his parents and older brother, John Anklam.

No memorial services will be held at this time, but a Celebration of Life will take place sometime in July on the Oregon Coast.  He loved the ocean and it was his wish to be buried at sea, so some of his ashes will be spread along the waters he loved with his family and friends at that time. 

If you wish to give a memorial in his honor, please consider donating to a Medical Marijuana Research program in your area or state.  He lived over a year past any hope from traditional medicines with the help of cannabis oils treating the cancers.  It could not catch up with the damage already done, but gave him extra time and comfort while he remained in this world.  RIP dear Cheech.

 Arrangements entrusted to Weddle Funeral Services.