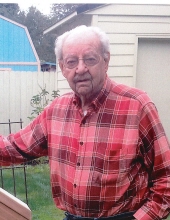 Obituary for Donald Raymond Medley
Donald was born in Oklahoma City, Oklahoma, to Sethew and May (Skinvick) Medley. When he was very young, the family moved to Wisconsin where he grew up with two brothers and one sister. After high school, Donald attended Wisconsin State Teachers College for pre-med courses, however, with the onset of WWII, his educational plans were derailed. Donald married Josephine Blakely prior to his assignment to the Pacific theater where he was wounded in a mortar attack.

When the war ended, Donald and Josephine moved to Riverside, California, where they raised a son and daughter together. He took a job at the county clerk's office as a finance specialist where he worked for a few years. Eventually Donald took a sales management position with Hunter Douglas and began his career in the aluminum industry. Over the years his work took him across the country from the west coast to Ohio and New York. In the 1970s, Donald remarried to Irene Fonzie and gained a new family of adult children that saw him as their father. When Donald retired from the aluminum industry, he lived for a time in California and then Lake Havasu. Being widowed, he settled in Oregon near his son.

Donald lived independently in Mill City to the age of 97, and then moved to Salem assisted living for the last two years of his life. At the age of 99, Donald passed-away in Salem, Oregon, on July 15, 2020. Donald was a quiet man and mostly a homebody, but he did enjoy time with friends and family and was happy and gregarious with them. Donald loved to be home in his garden, tending his flowers and vegetables. He was an avid reader of sci-fi, mystery, and adventure books, and enjoyed watching and talking about sports on TV.

Donald was preceded in death by his parents; wives: Josephine, and Irene; and siblings Larry, Shirley, and Robert. He will be dearly missed by those he leaves behind including his children Michael (Renate) Medley and Nancy Medley; Maridee (David) Ridgeway, Charles Fonzie; grandchildren Edward (Stephanie) Medley, Kyle Ridgeway, Linda Garcia, and Lucas Palmer; six great-grandchildren and one great-great-granddaughter. He will be greatly missed by many friends including long-term companion Peggy Barnick.

The family will celebrate Donald's life with a private family event.